Cristiano Ronaldo has hinted he could be tempted to play in France in future should he chose to leave Real Madrid.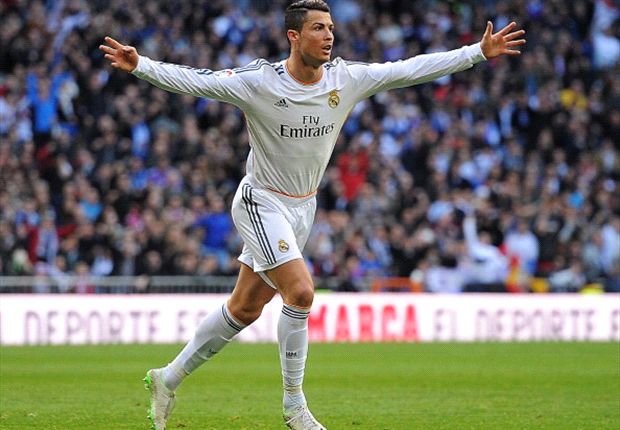 The Portugal star, who has enjoyed another excellent campaign with 22 goals in 20 La Liga games so far, was linked with a potential switch to Paris Saint-Germain prior to signing a new contract at Santiago Bernabeu last year.
Speaking on Sunday, the Blancos forward was open in discussing his footballing aspirations and, while he stressed he is keen to see out his five-year deal with the Spanish giants, he pointed to an interest in Ligue 1 "Maybe one day I'll be in France to live and to play. Or maybe not," he told French football programme Telefoot.
"France has always been welcoming to the Portuguese people. My mother worked there. It's a country that I really love. All I can say about French fans is that they continue to support me "I have a contract with Real until I am 33. I hope to stay here, I'm very happy."
Ronaldo believes PSG should be considered among the favourites to win the Champions League this season, with Laurent Blanc's side having cruised through the group stage to set up a tie with Bayer Leverkusen.
"PSG will be a contender to win the Champions League. It's a strong team and will be hard to beat. They will be one of the favourites to win this competition."
Ronaldo claimed his second Ballon d'Or of his career last month after his sensational form in 2013, and the 28-year-old admits the emotional ceremony will live long in his memory. "Maybe people were surprised to see me cry [when I won]," he said.
"But those who know me know that this is the real Cristiano. Someone honest. This is the reality, this is not the image that I give myself. It was natural. Having my son at my side, it was an incredible moment. It was one of the most beautiful nights of my life.
"[Franck] Ribery, like Lionel Messi, deserved to win it too. They accomplished a lot of things. But it was my turn. People voted for me because I made a superb season.
"It will be hard to beat my own record [of 69 goals], but nothing is impossible. I will do my best, as always. I hope I will not have any injuries. I am prepared for this challenge. We'll see what happens." Ronaldo and Madrid will be in action on Sunday as they travel to face Athletic Bilbao and will be hoping to overtake leaders Barcelona, who are a point ahead in the table.